Atlanta's Best Wedding Gown Storage Solution
The big day may have come and gone, but that gorgeous gown is as important as ever. Many women hold on to their wedding dress for the romantic sentiment, or perhaps even to pass it along to their daughters and granddaughters one day. But you can't simply toss these delicate garments in the closet and expect them to maintain their original beauty.
Wedding Dress Preservation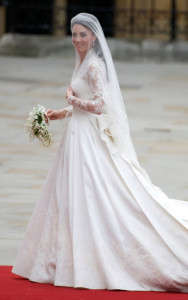 If you want your wedding dress to come out of storage in immaculate condition, you've got to be sure it enters storage that way. And even if you can't detect any visible stains or damage yet, it's still important to have it preserved by a cleaning professional.
Even trace amounts of dirt, skin oils, sugars, and makeup can set in and cause permanent staining if not attended to quickly. Wedding dress preservation slows the aging process dramatically, and is by far the best way to avoid unsightly yellowing or the development of brown, caramelized spots.
Most wedding dress preservation experts will use a traditional dry-cleaning method to keep your most valuable garment in like-new condition. After pre-treating visible marks with a gentle solvent and carefully protecting fragile accessories and lace with a sheet of muslin, the entire gown is placed into a dry-cleaning machine. What comes out at the end is a stunning dress with a lovely sheen – one that will forever remind you of how you first felt wearing it.
Storage Solutions
But the process isn't over yet. Once the dress has been prepared and cleaned, you'll need to find a way to store it without exposing it to further grime or damage. This is simply the only way to guarantee long-lasting results.
A skilled preservationist will prevent oils and dirt from settling on your gown by carefully wrapping it in acid-free paper or muslin before placing it gently in a pH-neutral box. Changing temperatures and humid air are problematic for wedding dresses, so you'll want to store it in a stable environment, but these boxes give you a bit of breathing room. Closets and (climate-controlled) attics may be good places to stash your gown – just take special care to avoid exposing it to direct light, as this can lead to yellowing over the coming years.
With over two decades of experience serving the Atlanta area, Classic Touch Cleaners is proud to offer you our expert wedding dress restoration services. For more information, call (404) 365-8660, or visit us in-person at our Buckhead location, near the corner of Marcus Boulevard and Piedmont Road.