At-Home Dry Cleaning – A Disaster Waiting To Happen
Any savvy shopper is always looking for a new way to save money. "At-home dry cleaning kits" are one of the latest products promising to do just that. They promise to cut your cleaning expenses, and to save you the time and effort of leaving the house for more delicate, dry-clean-only garments. Sounds great, right?
Unfortunately, these kits are far from the perfect solution they claim to be. Let's take a look at what you're actually getting when you purchase one – and why they're generally not worth your hard-earned money.
How Do At-Home Dry Cleaning Kits Work?
There are several different types of at-home dry cleaning kits on the market today, but most function in the same way. Each kit includes a reusable bag, cloth dryer sheets, and a bottled stain removal solution. Buyers are instructed to apply this solution to any problem spots on their clothing, then seal the garments in the included bag and place both the bag and cloth into their home dryer.
The idea is that this solution (which is just water + a cleaning agent: either detergent or a petroleum-based solvent) will dissolve away stains and dirt without the need to leave your home. But as we will see, the results aren't always quite what was promised…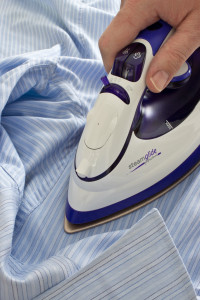 The Dangers of DIY Dry Cleaning
Dry cleaners work with many different types of fabric each day, not to mention delicate trims and accessories, so we know the difference between silk, taffeta, velvet, and wool. The solvent solution in home dry-cleaning kits isn't equally safe on every material, and it's easy to induce all sorts of broken fibers and other damage to your clothing. Water-sensitive fabrics (which are normally marked as "dry-clean only") can experience shrinkage as well.
What's more, at-home dry cleaning kits are simply not successful at removing grime and certain types of stains. An independent analysis by the Dry Cleaning & Laundry Institute compared the effectiveness of these products to expert service. What it found was that while both options are able to remove odors, wrinkles, and water-based stains, only professional dry cleaning can effectively tackle oils, difficult stains, and good old-fashioned dirt.
The answer is clear: if you're not overly concerned with the health of your clothing, you can certainly pinch pennies with a home kit. But for any garment that you care about, the results you'll get from real dry cleaners are simply unbeatable.
With over 25 years of friendly and professional service, Classic Touch Cleaners is proud to be Atlanta's premier dry cleaners. Visit us today near the corner of Sidney Marcus Boulevard and Piedmont road, or call (404) 365-8660.