5 Thing to Know When Getting Alterations
We all own clothes that no longer fit – usually because we have either gained, or lost, weight. Rather than tossing out your dress shirt, trousers, or coat, why not get them altered to fit right again? Classic Touch Cleaners offers personal alteration services, including mending, hemming, and resizing. Before getting your clothes altered, here are a few quick tips to follow.
Know What You Want
Dry cleaners and tailors can only make the alterations you ask for. Before bringing in your clothing, try on the item in question and make note of what specifically you want changed. Whether shortening the sleeves, letting out the waist, replacing zippers, or anything else you may need – being clear about your requirements ensures a quick and satisfactory result.
Pin It First!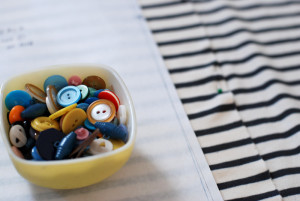 Having your dry cleaner pin the changes beforehand is an excellent way to ensure a perfect fit beforehand. This method is for those who need to shorten or shrink an aspect of their garment, rather than those looking to expand it (by letting out the seams, for instance), and involves wearing the item so that the extra material can be tucked back and held in place with pins. This simulates the look of the clothing as it will be after the actual alteration is made, and is an effective way of ensuring that there are no communication gaps between you and the dry cleaners.
Test Their Skills
While we're proud of our abilities when it comes to clothing alterations, it's a good idea with just about any dry cleaner or tailor to do a test run. Start with an inexpensive item and alteration – perhaps grab a pair of jeans and ask to have the waist taken in. Make sure that you're satisfied with the results before you ask for more valuable work to be done.
Know What Can Be (Realistically) Altered
Tempting as though it might be to bring in piles of your old clothes for that perfect fit, not all alterations are practical. For instance, the rise in a pair of dress pants cannot be lengthened, and can only be shortened up to around an inch without having to alter the pockets. Anything more will become more expensive as the pockets too need to be altered. Ask your cleaner/tailor if you have any specific questions about what changes can be made.
Don't Wait Until the Last Minute
Altering clothes can take time – if you want your favorite dress taken in for the office party, don't plan to bring it in the morning of. Not all changes are equal in complexity, and while some may only take minutes to perform, others can take hours or even days. The waiting time may be extended, even for relatively simple alterations, if your dry cleaner already has a large backlog of items waiting to be tailored. Leaving adequate time to complete the work removes the stress of uncertainty, and ensures better quality results. Visit Classic Touch Cleaners today, or call us at (404) 365-8660, for clothing alterations, dry cleaning, and more information on both.