Why Do People Use Starch In Their Clothes?
Ever heard food (like potatoes, for instance) referred to as "starchy"? Yep, that's the same stuff that we're talking about in the dry cleaning world. Starch is a carbohydrate, one that plants make as a way of storing energy, and it's commonly found in fruits, vegetables, and tubers. This simple product is popular for adding body and stiffness to garments, reducing limpness and keeping creases fresh and crisp.
Laundry Starch – A Quick History
People have been using starch for laundry purposes since at least the European Middle Ages. In those days, starchy materials (like bran) would be boiled in water, which would then be used to wash clothing. After the clothes dried, they would be polished with a tool called a "slickstone", which was often made of rock but could be glass as well. Of course, this was a rather elaborate process, and actually having one's garments starched was something of a luxury.
Nowadays, laundry starch is generally made from a mixture of vegetables, such as corn, potatoes, wheat, and/or tapioca. Some types can be added directly to washing machines along with the standard load of clothing, but dry cleaners will typically apply starch when pressing garments. All in all, starching has become far more simple and affordable, and nearly anyone can take advantage if they so desire.
What Sort of Clothing is Usually Starched?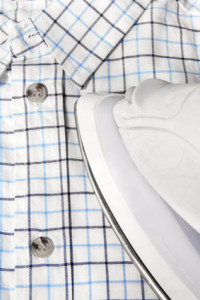 Dress shirts are probably the most commonly starched garment we see in this line of work – after all, who doesn't enjoy the professional look and classy feel of a crisp button-down? It's also often used on dress slacks and even jeans. Something many people don't realize is that starched clothes are simpler to clean: dirt and grime actually stick to the starch, not the fabric, and wash off with ease.
One tip to keep in mind is that, generally speaking, only natural fabrics will be receptive to this process: synthetic fibers are slicker, and don't hold starch well. Not sure if starching is right for you? Ask your dry cleaning professional for their opinion!
For dry cleaning services in Atlanta, don't settle for anything less than the best. Visit Classic Touch Cleaners today at 2625 Piedmont Road NE (Suite 42), or give us a call at 404-365-8660.